Last Saturday before a night of shedding some calories at the dance floor, me and 2 other lovely ladies (we are the Sunday Girls yo! Ok I know it doesn't really matter to you guys.) went to fill our bodies with calories 1st before having any to shed.
We decided on Three Little Pigs, having passed by it whenever I happen to be in Takashimaya basement, since the name sounds cute and kinda relevant to us 3 (not that we are pigs of 'cos, but you know like we are 3 little cute fellows with a tight bond amongst us).
Their food choices sounds interesting, plus the price point is rather decent too (not wallet-raping), so we were looking forward to savouring it all.
We kickstart our meal with Fried Eringi Mushrooms with Garlic Miso Dip (S$7.80++). Here's how this appetiser is supposed to look like as shown in the menu.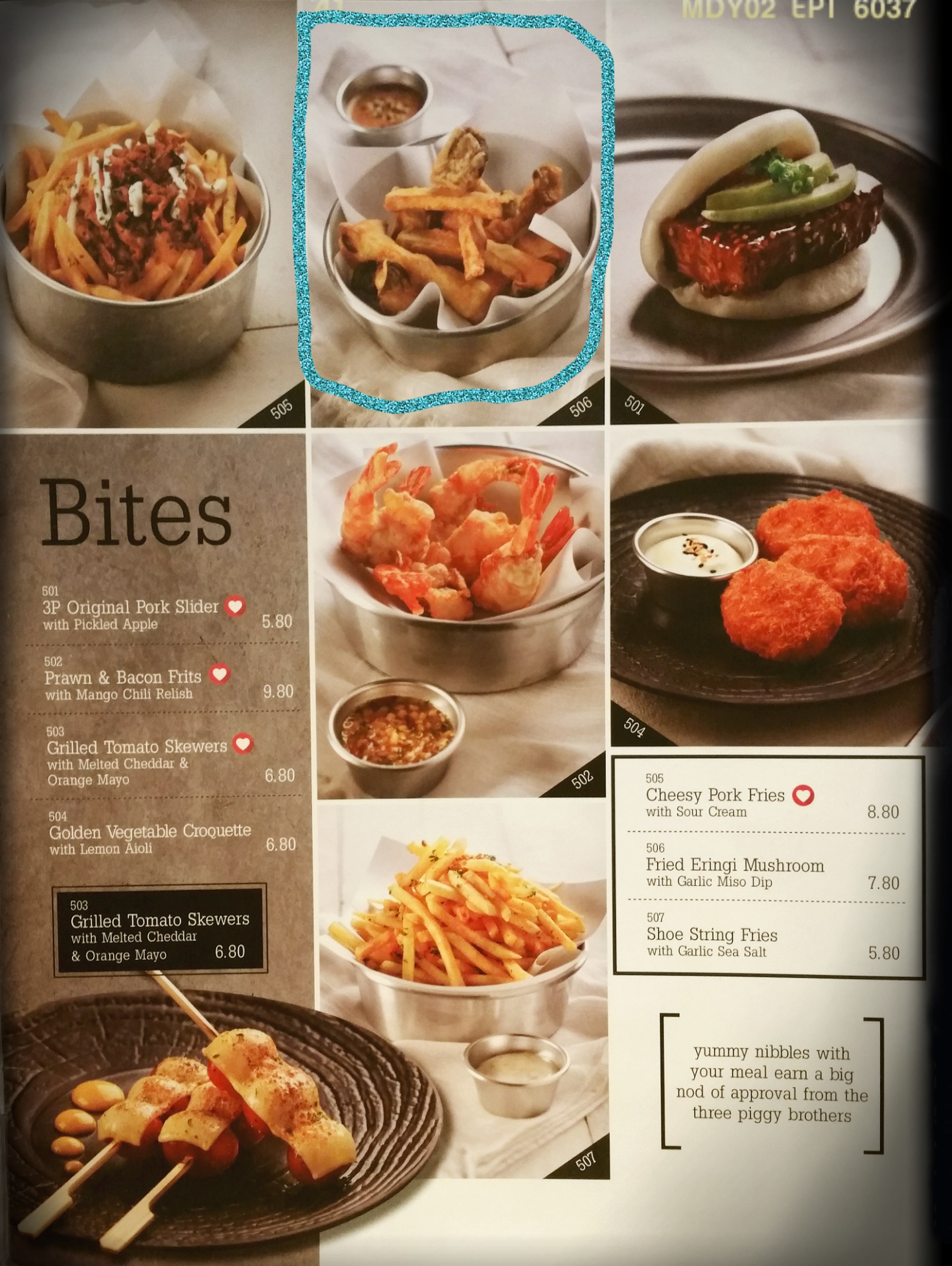 Here's how the actual dish looked like when it was served.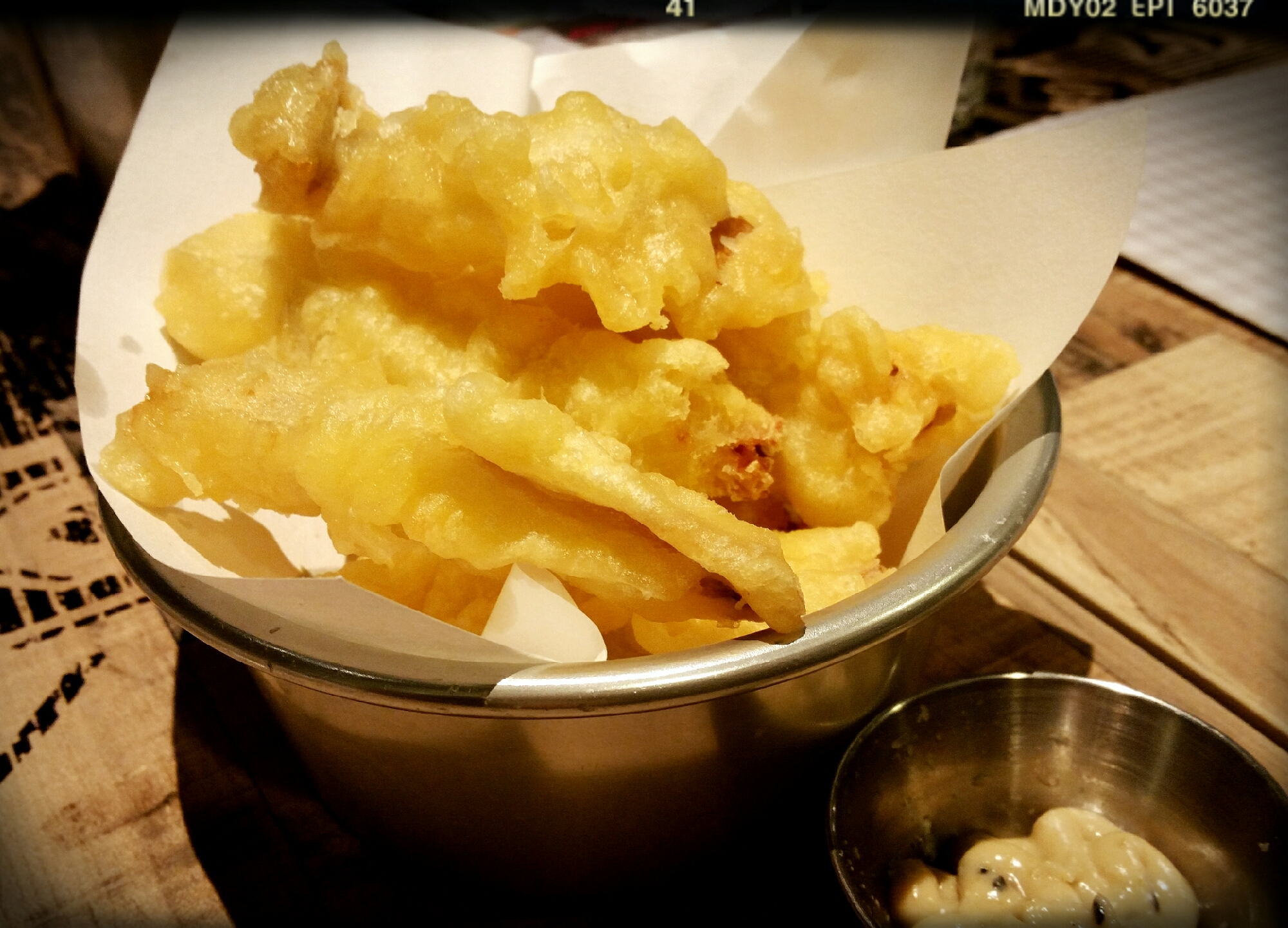 Wow. That sure differed quite a bit, didn't it?
I've never had fried mushroom dishes that come with fried batter that's so thick, until the point I thought they served us the wrong dish.
We still gave it a try since looks can be deceiving, and there's still a possibility that it'll taste yummy (how bad can it go, right?)
Looks sure can be deceiving, 'cos this dish tasted far worse than it looks (not even on par to how it looks). First bite only, and you can taste only oil and flour. It's not lightly crisp, nor does the batter have any flavouring at all. And the best part? The mushroom slice literally gets pulled out very easily on your first bite, leaving you with a hollow batter (as shown below).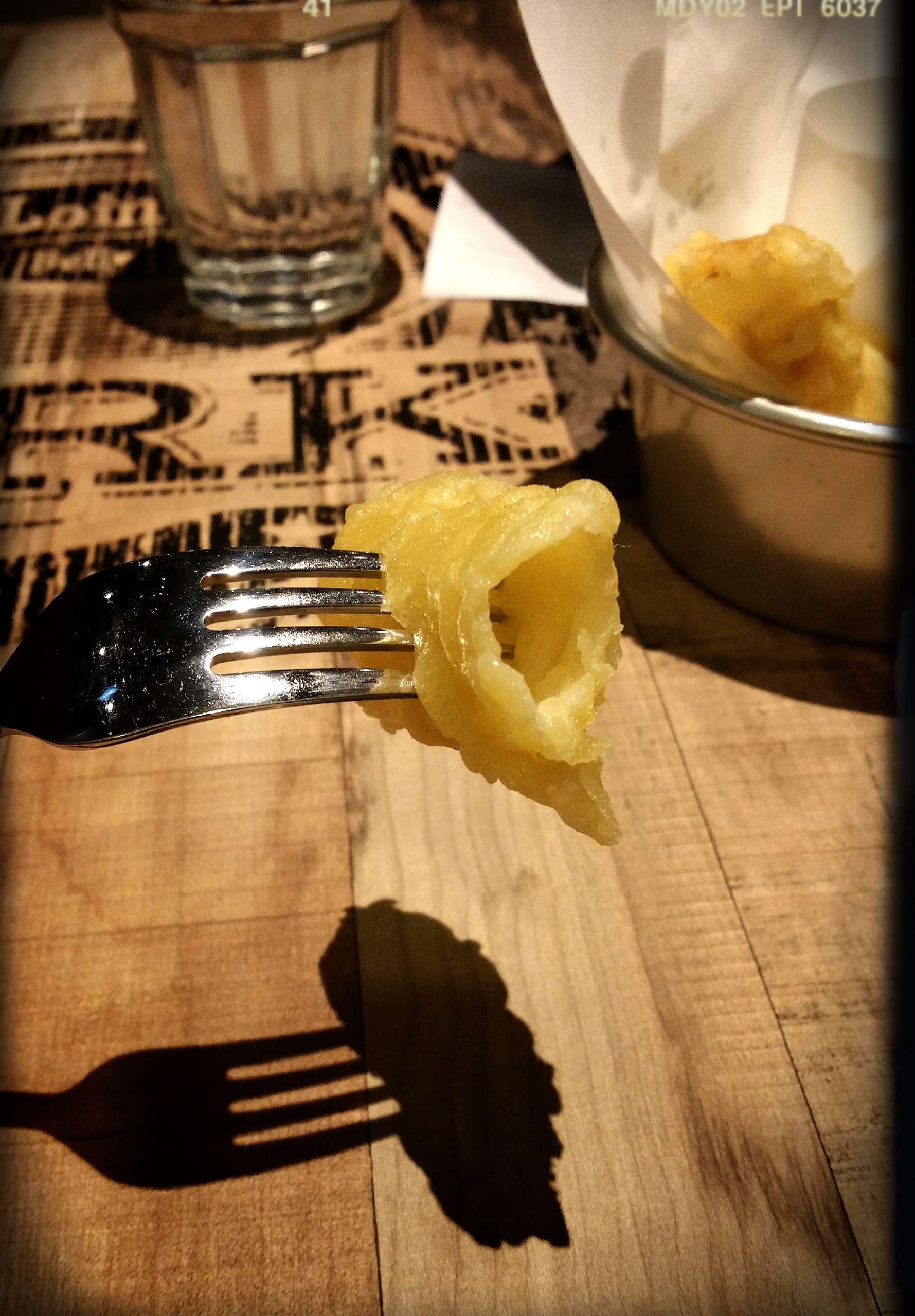 Not recommended in ordering this appetiser. I looked around the restaurant and realised most people ordered the Cheesy Pork Fries instead.
We tried 3 different types of mains.
1. Garlic Pork Chop (S$17.80++)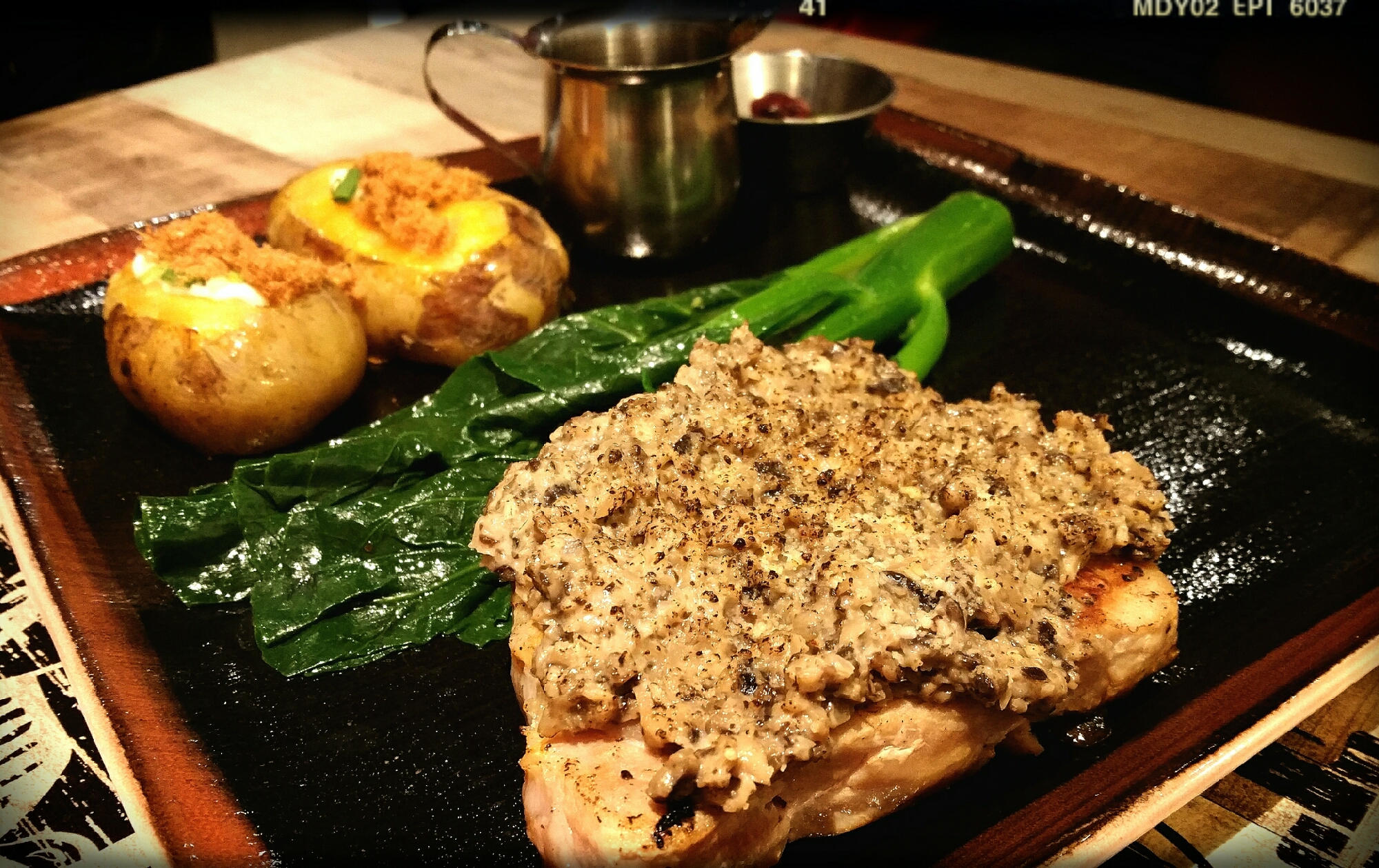 The best among the lot. Pork chop was grilled till tender, which went well with the toppings and sauce. (Hence the name of the restaurant, I presume.)
The rice was rather bland and not satisfying enough. Prawns were normal, but could be more succulent.
3. Mushroom & Cheese Chicken Burger on Brioche Bun (S$13.80++)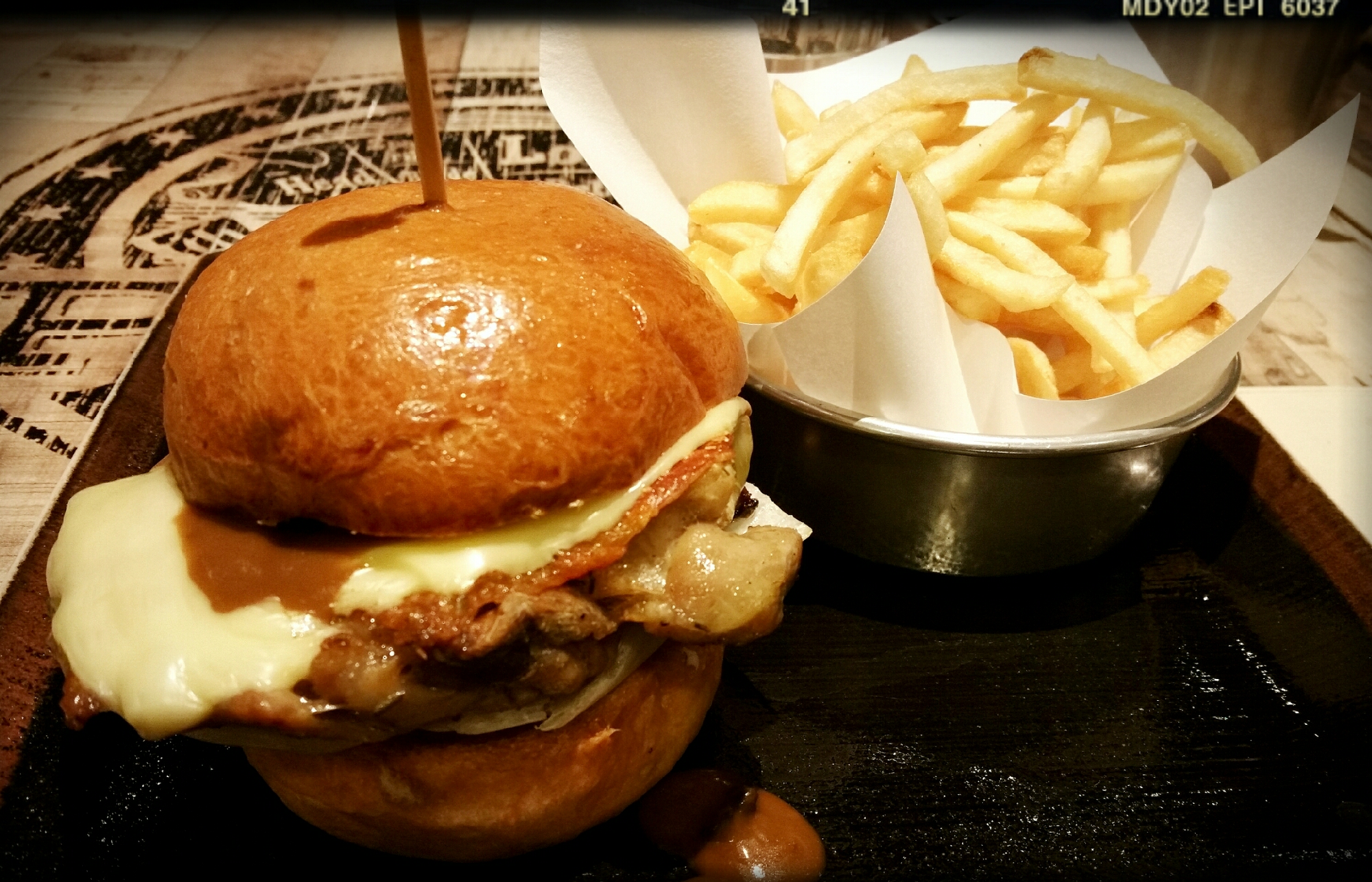 I like that there's alot of cheese but not enough mushrooms. The chicken didn't have much flavour, so it's recommended to consume the meat together with the cheese. The brioche bun was soft and tasty though. The fries were bad – cold, dry, tasteless.
Not sure if I'll be back again to try out their other food options. If I do, I'll probably just go for their pork dishes since they seem to do pork better. And maybe try out their desserts too which we gave them a miss for this round.
Till next time!!
Three Little Pigs
391 Orchard Road, Ngee Ann City, Takashimaya S. C., #01-25/26/27, Singapore 238872
Opening hours: Daily 10am to 930pm
Tel: +65 6836-4988